Class Image: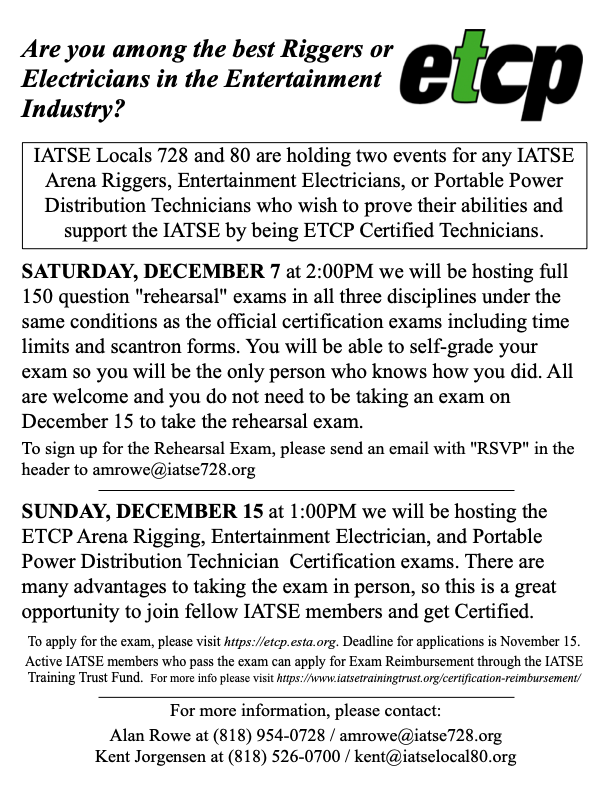 Class Description:
Are you ready to demonstrate that you are the best in the business and do your part for Local 728? Become an ETCP Certified Entertainment Electrician or Portable Power Distribution Technician. The certifications are intended for employers and Authorities Having Jurisdiction to quickly identify who is among the most knowledgeable and skilled technicians in the industry. This is important as there are people outside of Local 728 who want the world to see us as unqualified and the more members who are certified, the harder it will be for them to make this claim.
Certification is in two steps. First, you have to fill out an application that demonstrates that you have enough experience to qualify (the Local can help you verify your hours) and pay a fee. Then you just have to take a test (the Local can help prepare for that too.) Once you pass the test, both the IATSE Training Trust Fund and Contract Services can reimburse your exam fees.
Local 728 has resources to help prepare and will sponsor a pencil and paper exam sessions, as well as a full "Rehearsal Exam" so you know what to expect when you take the exam.
You cannot signup for the exam on this website (though signing up here will let me know that you are going to take the exam) so you will need to signup at https://www.etcp.esta.org.
If you have any questions, please contact me or check out the ETCP website.