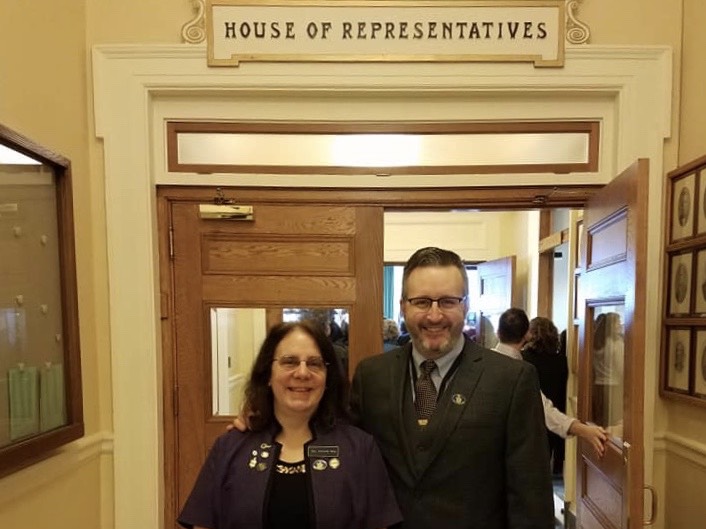 Electrical Workers (IBEW) Local 1253 member Tina Riley never had any desire to get involved in politics until she was recruited to run for the Maine Legislature in 2015.
She knew it would be a challenging race. The district was traditionally a union stronghold, but it had been trending conservative in recent years due to a decline in union membership caused by union busting, layoffs and mill closures. But with strong union support and preparation, Riley said, she had the tools she needed to run her first successful campaign in 2016, narrowly winning by 57 votes.
Riley was instrumental this session in requiring the use of registered apprenticeship programs on larger renewable energy projects as a way to build good jobs in the energy sector and blocking attempts to weaken electrical licensing standards.
"The state employees union and the teachers union are quite visible to the Legislature. They're focused on the kinds of jobs in which their members are engaged. Most people are less aware of how trade unions operate," Riley said. "Sometimes legislators would speak disparagingly of short-term construction jobs. They needed to hear that thousands of construction workers depend on those jobs to feed their families—and they did hear it. And it changed their thinking at times."
Riley herself came into the union through an IBEW apprenticeship nearly 30 years ago and has worked as a maintenance mill electrician as well as run her own contracting firm with her husband, who is a union worker at the Rumford Mill. 
For union members considering a run for office, she encourages them to take the Maine AFL-CIO Worker Candidate Training as well as meet with party leaders and local legislators to learn about the job.
"I think it's essential that we, as a legislature, be extremely cost-conscious, but foremost, we need to consider the overall well-being of the people we serve," Riley said. "Good jobs, with good pay and dignified treatment by our employers, is a critical piece of that overall well-being, and it is always the union voice that brings that perspective to the table."
When Rep. Scott Cuddy, an IBEW 1253 member, talks about the need for more labor voices in the Maine Legislature, he gets pretty passionate. 
"You can serve in the Legislature," he advises union members. "Every union member that I've met who has shown any interest in politics could absolutely do a great job in the Legislature. And I really hope they do, because there needs to be more of us." 
Cuddy knew he wouldn't have an easy path to the Statehouse when he made the decision to run. After losing his initial race in 2016, he persisted and won his seat in the 2018 election. He had just started a night job installing lighting on the Bar Harbor Airport runway, but he was able to campaign during the day and take candidate training offered by the Maine AFL-CIO. 
"It was actually the best job I could have had in terms of getting the time to knock on doors," he said. "So by the time I was done with that, I was so happy when the election rolled along."
Cuddy says union members bring a unique perspective to government in that they have a sense of class consciousness and understanding of the employer-employee relationship. He says that many union members are uniquely suited to legislating because they understand how to negotiate, so they can prevent bills from getting watered down in the political process. 
Cuddy emphasizes that union members also can have a positive influence on their colleagues. He noted that while some legislators may not want to listen to a union staffer, they are more willing to hear from other legislators on important labor bills. 
"A lot of decisions get made in the caucus room," Cuddy said. "People stand up, they make their pitch, and when you have union members in the room who can talk about the importance of collective bargaining rights, it carries a lot of weight."